Published on 20 February 2012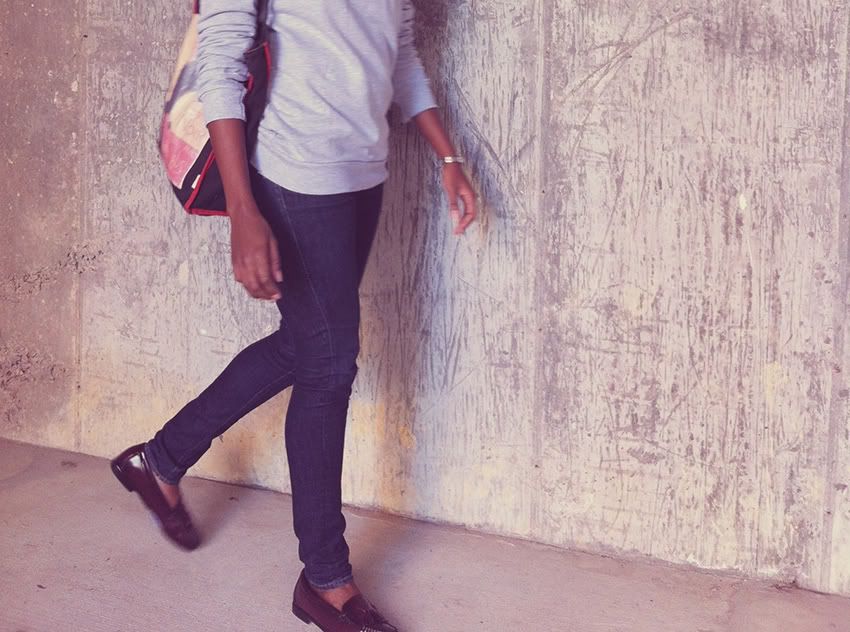 I only received this final version last week, but my Au Courant fleece sweatshirt - the first of two logo designs - has already been integrated into my heavy-rotation rack of clothes. It's thick enough to provide just the right amount of warmth on cold days, without broiling me to death on balmier ones.
Coincidentally, its been warm enough to warrant jacket-free, boot-free and sock-free dressing. Which is perfect, because not only do I get to wear this cozy sweater ad-nauseum, but I also get to see my ankles again.
Been wearing layers of socks and foot-warmers for so bloody long, that I'd forgotten what the lower half of my legs looked like. I'm so serious, it's not even funny...
And since I've never seen a heather-grey article of clothing that I didn't instantly love, this logo sweatshirt may very well become part of my daily ensemble. 
Weather - and wash days - permitting, of course.
PS:Thanks for all the purchase inquiries! I've got a three more pieces to show, then I'll certainly make the sweater available through Au Courant!
Wearing: Tory Burch sunglasses; Au Courant Logo sweatshirt; Uniqlo skinny jeans; Topshop leather belt; Le Chat Noir tote; GH. Bass leather loafers.
NB Images copyright © 2012 Au Courant Studio, LLC, All Rights Reserved