Published on 08 April 2012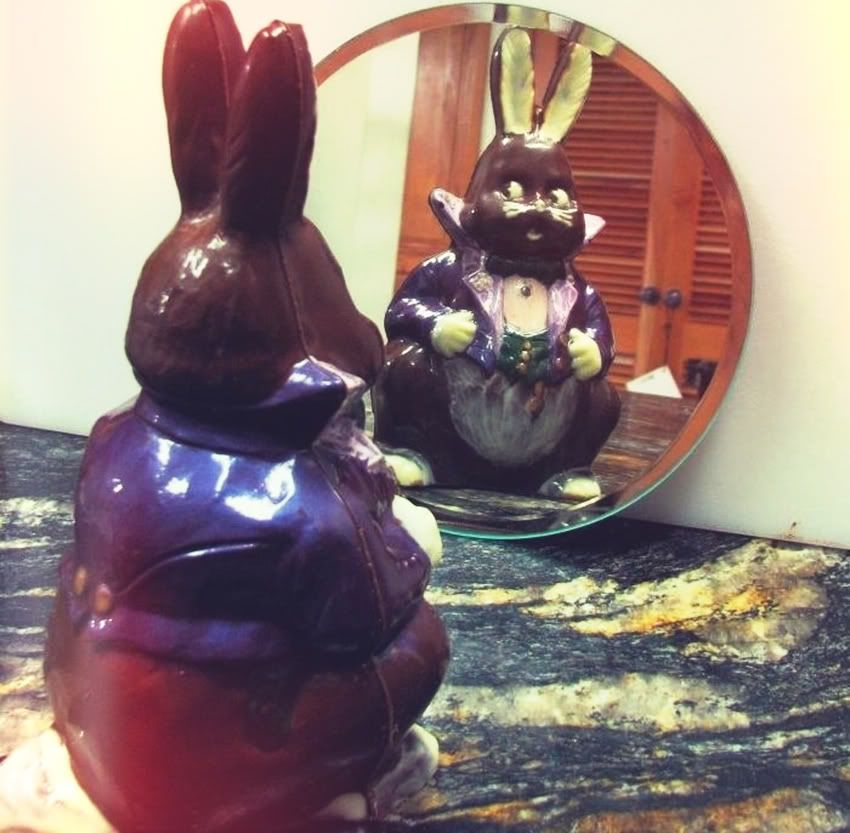 Well, that's probably what he might have said right before he was eaten up.
Crafted from Single Estate Trinidadian Cocoa for Cocobel Chocolates by Isabel Brash, this cheeky little bunny put a huge smile on my face this lovely Easter Sunday, and I just had to share the goodness. 
I admit, the whites of Georges' eyes freak me out just a teensy bit. Something about their stark reflection in the mirror makes me wonder what dastardly deed he was about to commit.
However, his dapper ensemble more than makes up for that initial fright. And according to Brash, when this photo was snapped Georges was actually vacationing "in Tobago with [his] sweetheart and... having a delicious time!"
Well, well, well...
Easter bunnies like Georges were the kind of things I used to badly want in my younger days. My wise mother forbade me from having anything more than a shilling-sized chocolate wafer or two; the sheer joy of having a complete choco bunny would have sent me bouncing off the walls with delight/madness.
Not to mention what all the sugar would have done! 
Her rationale? Chocolate bunnies for Easter are nice and all, but it's better to focus on our goodly, risen Lord instead. Trust a mother to banish all cocoa cravings with the fear of the Lord, eh? 
At any rate, do allow me to wish you a very Happy Easter. And may God's blessings bring you Easter forgiveness, rebirth, rejuvenation, and all the chocolate bunnies your heart desires!
NB Images Courtesy Cocobel Chocolate