Published on 17 October 2011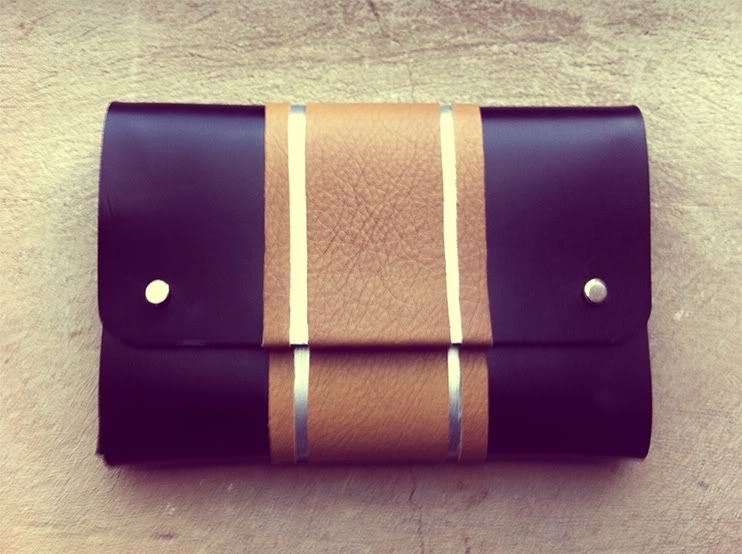 Sister Dearest had been asking me to make her a leather purse for quite sometime. Which made me think, "Doesn't this woman remember that I already made one for her - WTF?!"
It would seem that she had forgotten all about the admittedly ill-made lambskin leather clutch I gifted her with, about four years ago.
I'll be honest. It was one of the very first clutches I had sewn entirely by hand, and thus, it looked more like I had sewn it by foot...
Not good.
Anyways, for her birthday this year I decided to acquiesce to the growing requests for a new (and by new, I assume she meant 'proper looking') clutch, by making a mini version of the Woven Folio for her.
Instead of the laborious straw weaving process used for the last Folio clutch, I decided to try my hand at manipulating another unexpected material: used, vulcanized rubber.
At first I thought the rubbery scent along with the weight of it would be too ungainly for a sleek clutch. But there was no smell to the material, and using one whole section instead of separate parts made it work nicely.
By itself, the Mini Folio seemed a little too plain. Even for my tastes.
So the lambskin leather center strips and the metal-finish panels gave it that extra punch I was looking for. Especially when placed in between those industrial-esque, steel stopper closures.
Here's to hoping the Mini Folio satisfies those 'new purse' demands.
NB Images copyright © 2010 Au Courant Studio, LLC, All Rights Reserved