Published on 09 February 2012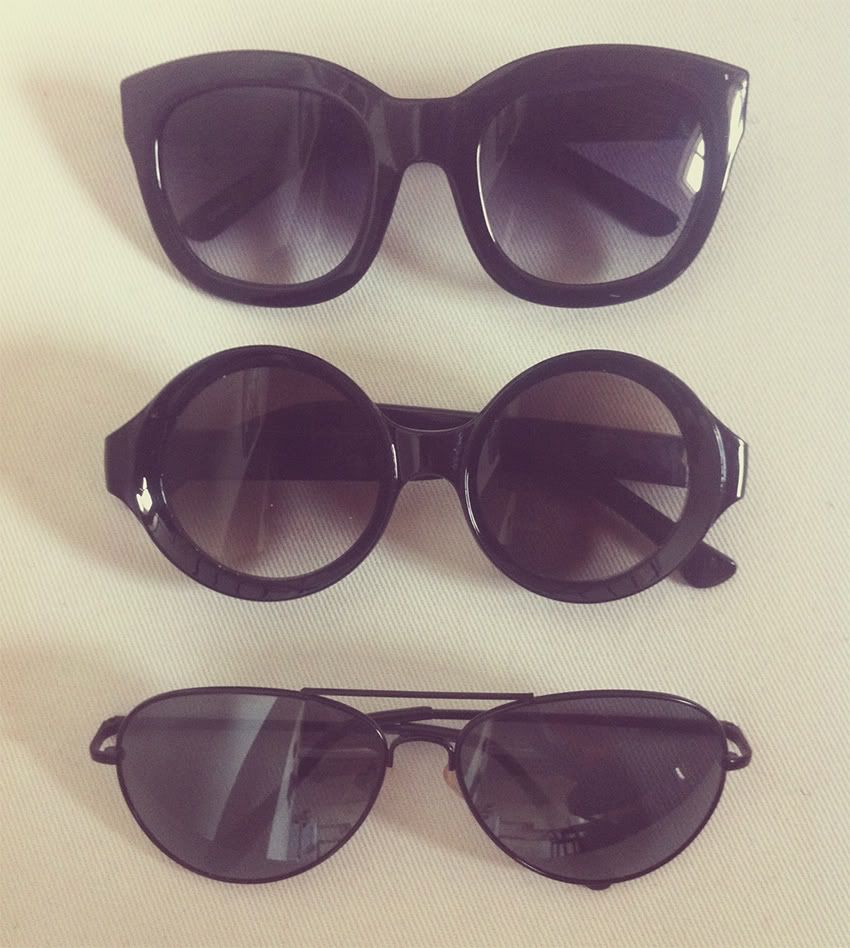 There was a curious period in my life when I thought novelty-esque sunglasses were a thing. As in, a cool thing, worn in order to jazz up my daily basic ensembles. Amongst my favourites were a plastic, flourescent pink Benetton pair; a humongous metal-framed vintage number with curlicues on either temple; a red + white, asymmetrical oddity; and a crystal-clear, American Apparel deadstock goggles.
Every time I wore a pair, my goodly husband would roll his eyes and ask if I absolutely had to wear 'those hideous things' in public again. And every time, I'd toss my head in defiance and confidently say that I was making some grand style statement that he just couldn't understand.
Apparently, I was deluded. A picture shot at the peak of the madness alludes to this fact; I was wearing a vintage pair that covered so much of my face it seemed as if my hairline began where the frames ended. And I have a rather large forehead, so for a pair of sunglasses to almost cover it? 
Madness, I tell you.
Thankfully, hiding behind all the novelty mess in my accessories case were these three basic sunglasses, which I've worn religiously ever since wising up. The aviators are for the everyday, the chunky cat's eye is perfect for a more dressy occassion, and when the old, novelty ways come a-calling and I can't resist?
The vintage black circle-sunnies are there to answer. Albeit in a more subdued, less Auntie-Mame manner...
Shown, from top: AJ Morgan Feline sunglasses; Vintage circle sunnies; Tory Burch aviators.
NB Images copyright © 2012 Au Courant Studio, LLC, All Rights Reserved